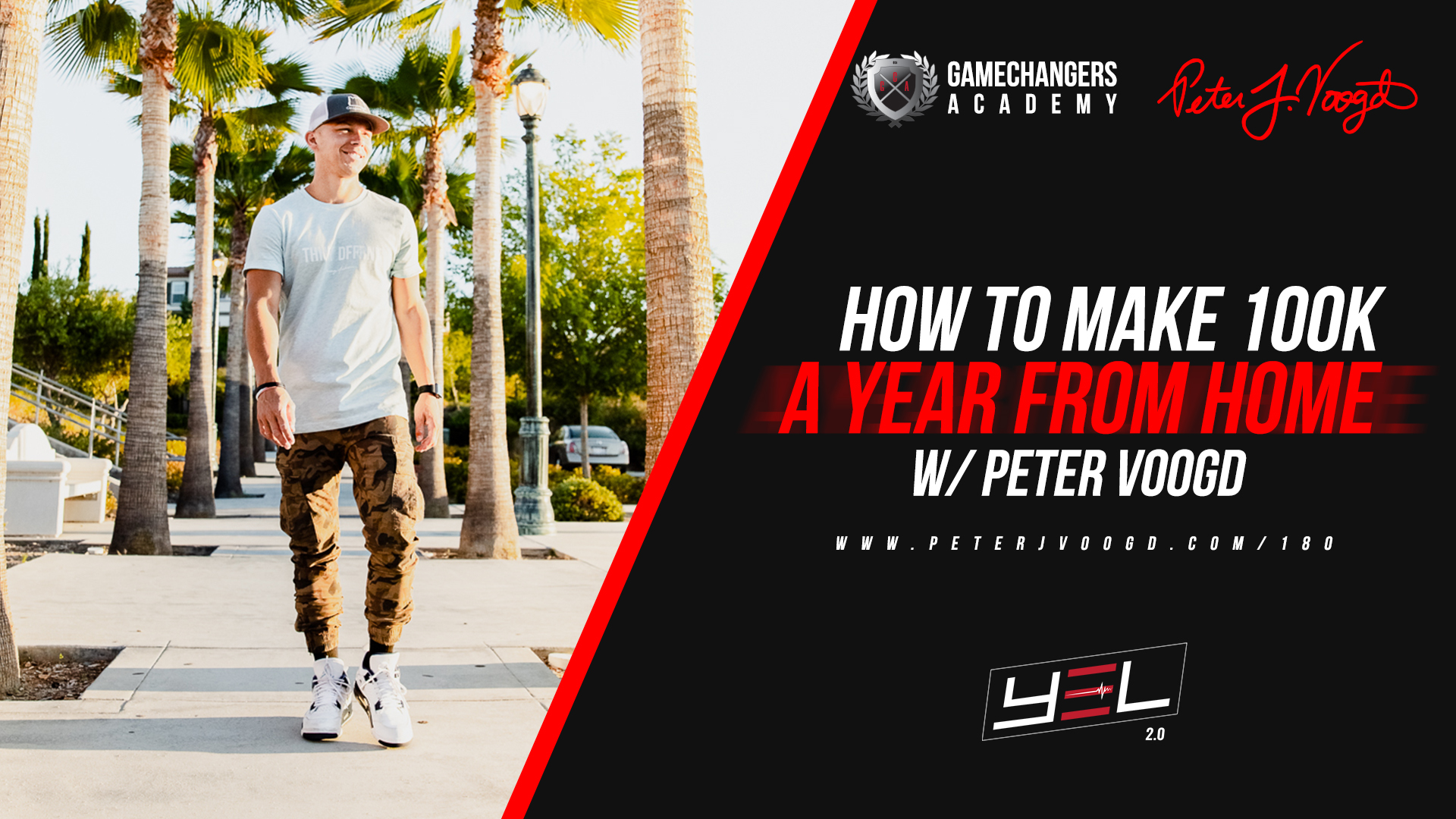 16 Jan

How to Make 100K a Year from Home with Peter Voogd
EPISODE SHOW NOTES
How fired up are you today to start making six figures from home?
No matter if you're 35, 46, 22, or just dropped out of college, there's a way… as long as you dream and believe you'll get your hands on it one day, there's a way for you to earn six figures in the comfort of your home. How do I know that? Because I was that – I was that college dropout whose back was against the wall, stressed out and frustrated with people telling me I'm supposed to be broke because I was 22 – until I made a decision on exactly what I really wanted to be, who I needed to hang around with, and on what I really wanted to achieve in the next six months.
Going from broke to six figures, you have to get crystal clear on how your journey should be like. And that includes your mindset, your vision or goals, your circle of influence, and your values. But will the journey be smooth-sailing? No.
Even when you achieve or reach a milestone during this journey, the road isn't always going to be straight. There's things you're gonna have to be willing to let go of, things to readjust, momentum to maintain, more confidence to build, and tactics to learn. When you get a grip on life by mastering these things, that's when you can gain traction and finally say you're not only fired up to gain six figures, but also loaded to get to seven.
Think Media CEO Sean Cannell is an international keynote speaker who runs a 7-figure online video education company called Video Influencers. He authored the best-selling book, YouTube Secrets: The Ultimate Guide to Growing Your Following and Making Money as a Video Influencer which has cemented his place as an influential YouTuber with more than a million subscribers.
Aside from being featured on Social Media Examiner and Success.com, Sean Cannell has been featured in the "20 Must Watch YouTube Channels That Will Change Your Business" by Forbes. His passions include coaching entrepreneurs in building their online influence to get to that 6-7 figures.
Join Peter Voogd in today's podcast as he shares the floor with fellow influencer Sean Cannell and talks about how he was able to go from broke to six figures, exposes the mistakes of his old circle of influence, and what Peter did to gain all the confidence he needed in getting to that millionaire status!
In this episode, you will learn…
3 detailed tips on how to start making 100k a year

Why you need to move with clear intentions

About the "decision train"

How your circle of influence drives up your confidence
QUESTIONS:
WHAT ARE THE TOP 5 RESULTS YOU WANT TO SEE IF YOU START MOVING THE NEEDLE TODAY?
GAMECHANGERS ACADEMY
#1 Academy forSerious Entrepreneurs
One of the Premier Networking Communities
Millionaire Guest Speakers/Exclusive Mastermind Calls
Over 500 Testimonials
Featured in Entrepreneur and Forbes Magazine
APPLY FOR THE GAME CHANGERS ACADEMY NOW!