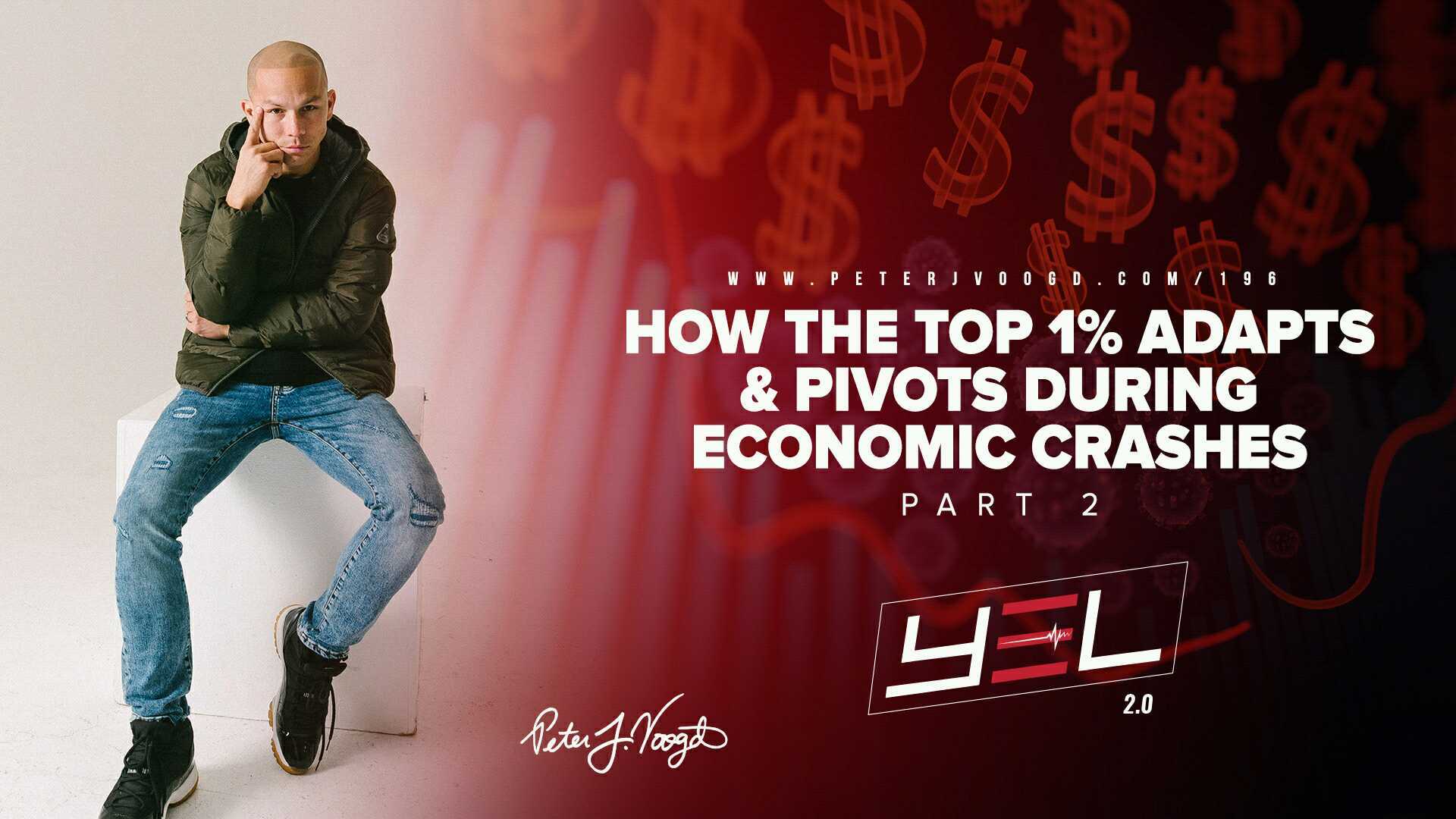 22 May

How the Top 1% Adapts & Pivots During Economic Crashes Part 2
EPISODE SHOW NOTES
Is lockdown anxiety keep you from picking up the sport of entrepreneurship and building wealth?
Overcoming this economic downturn does not take a lot of guts. But it does need you to crush fear because the real epidemic right now is that – fear. Adapting, preparing, and adjusting the way you do business and earn money are your lifelines and what will ultimately transition your efforts to something that will yield real money during the quarantine.
How are you preparing your business to come back stronger? Where are you putting your money right now? Are you doubling down? Or are you taking the path of least resistance?
If you're serious about coming out on top, you gotta reinforce your mindset, your discipline, and your motivation. Use and abuse this quarantine time to take advantage of opportunities provided to you by available resources. Move quickly. Adapt. If you need to pivot, pivot and act fast!
A curation of value-packed interviews that best explain how you should be adapting to the economic effects of the coronavirus, Peter presents in this week's podcast six of the greatest game-changers in the country who have achieved tremendous success in their respective fields:
GERARD ADAMS
Investor, philanthropist, and trusted advisor for conscious founders
BEDROS KEUILIAN  
CEO of the most popular indoor fitness boot camp, Fit Body Boot Camp HQ
NICK BARE
CEO of sports nutrition supplement company, Bare Performance Nutrition
CODY SPERBER  
Real estate mentor and Founder & CEO of Clever Investor
TAREK EL MOUSA
Self-made celebrity real estate investor and host of Flip or Flop on HGTV
ROBERT KIYOSAKI
Author of international best-seller personal finance book, "Rich Dad Poor Dad"
These self-made millionaires are on top of the coronavirus as they continue to build wealth even during economic crashes simply because they know what it would mean if they do not immediately pivot and adapt.
Tune in to this week's mashup podcast where six of Peter's wealthy, resilient, game-changer friends talk about how you can adapt and pivot during a madly worrying economic crisis!
In this episode, you will learn…
Where to put your cash during the COVID crisis

Why you should take the money from government

How to pivot without looking opportunistic

The importance of adapting and moving fast
QUESTIONS:
WHAT IS THE BIGGEST SHIFT YOU'RE MAKING TO ADAPT TO TODAY'S ECONOMY?
GAMECHANGERS ACADEMY
#1 Academy for Serious Entrepreneurs
One of the Premier Networking Communities
Millionaire Guest Speakers/Exclusive Mastermind Calls
Over 500 Testimonials
Featured in Entrepreneur and Forbes Magazine
APPLY FOR THE GAME CHANGERS ACADEMY NOW!