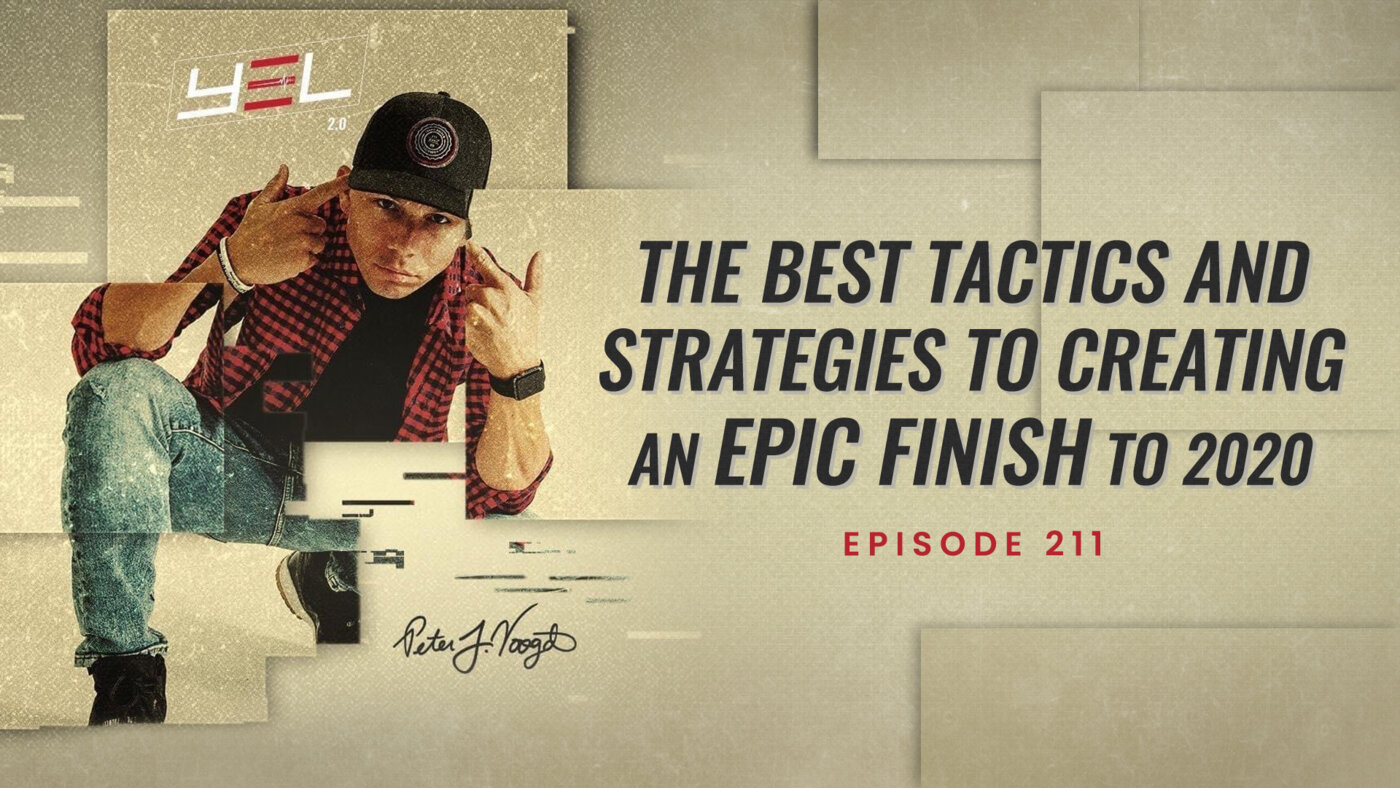 19 Dec

Creating an EPIC Finish to 2020

Greenlights – Matthew McConaughey Book

Let's Connect on Social Media:

Follow Peter Voogd

[/vc_column_text][/vc_column][/vc_row]
GAMECHANGERS ACADEMY
#1 Academy for Serious Entrepreneurs
One of the Premier Networking Communities
Millionaire Guest Speakers/Exclusive Mastermind Calls
Over 500 Testimonials
Featured in Entrepreneur and Forbes Magazine
APPLY FOR THE GAME CHANGERS ACADEMY NOW!
º
EPISODE SHOW NOTES
In this episode of Y.E.L 2.0, your host Peter Voogd tells you what mindset you should have going into the final stretch of 2020 and how to fuel yourself to an EPIC finish!
Episode Highlights:
Peter is giving away clothing to subscribers of his YouTube channel
You are just one decision away from changing a lifetime of bad habits and bad decisions
Use your past failure as fuel and inspiration to make up for the wrong choices that you have made
What separates winners from losers is that
The last portion of sports games and eCommerce calendars contain up to 40% of the scoring and sales
Look into the most common thoughts and tendencies in society right now and do the opposite
People tend to slow down or take it easy at the end of the year, but that's not what the winners do
Most people overeat and sleep at this time of year and have no energy to create momentum for 2021
Figure out your biggest motivation from this year and use that to kill it for the rest of the year
Progress is the biggest form of motivation and those that stop progressing get stuck in their lives
Whatever your motivations are, use them to create more time to focus on the things that you care about
Reasons always come before results, so figure out why you want to crush it
At the end of 2012, Peter realized that habits and reasons trump inspiration and motivation
Who you allow in your inner circle determines what you are allowing to enter your state of mind
Three Key Points
It only takes one decision to turn your path in the right direction.
The best way to turn yourself around is to do the opposite of what everyone else is doing.
How you approach December 2020 is how you determine your performance in 2021.
RESOURCES
You can download Peter's exclusive networking blueprint at https://gamechangersmovement.com/networking – This blueprint will give you the exact scripts Peter uses to get ahold of anybody. 
SOCIAL MEDIA
Greenlights – Matthew McConaughey Book
Let's Connect on Social Media:
Follow Peter Voogd
GAMECHANGERS ACADEMY
#1 Academy for Serious Entrepreneurs
One of the Premier Networking Communities
Millionaire Guest Speakers/Exclusive Mastermind Calls
Over 500 Testimonials
Featured in Entrepreneur and Forbes Magazine
APPLY FOR THE GAME CHANGERS ACADEMY NOW!