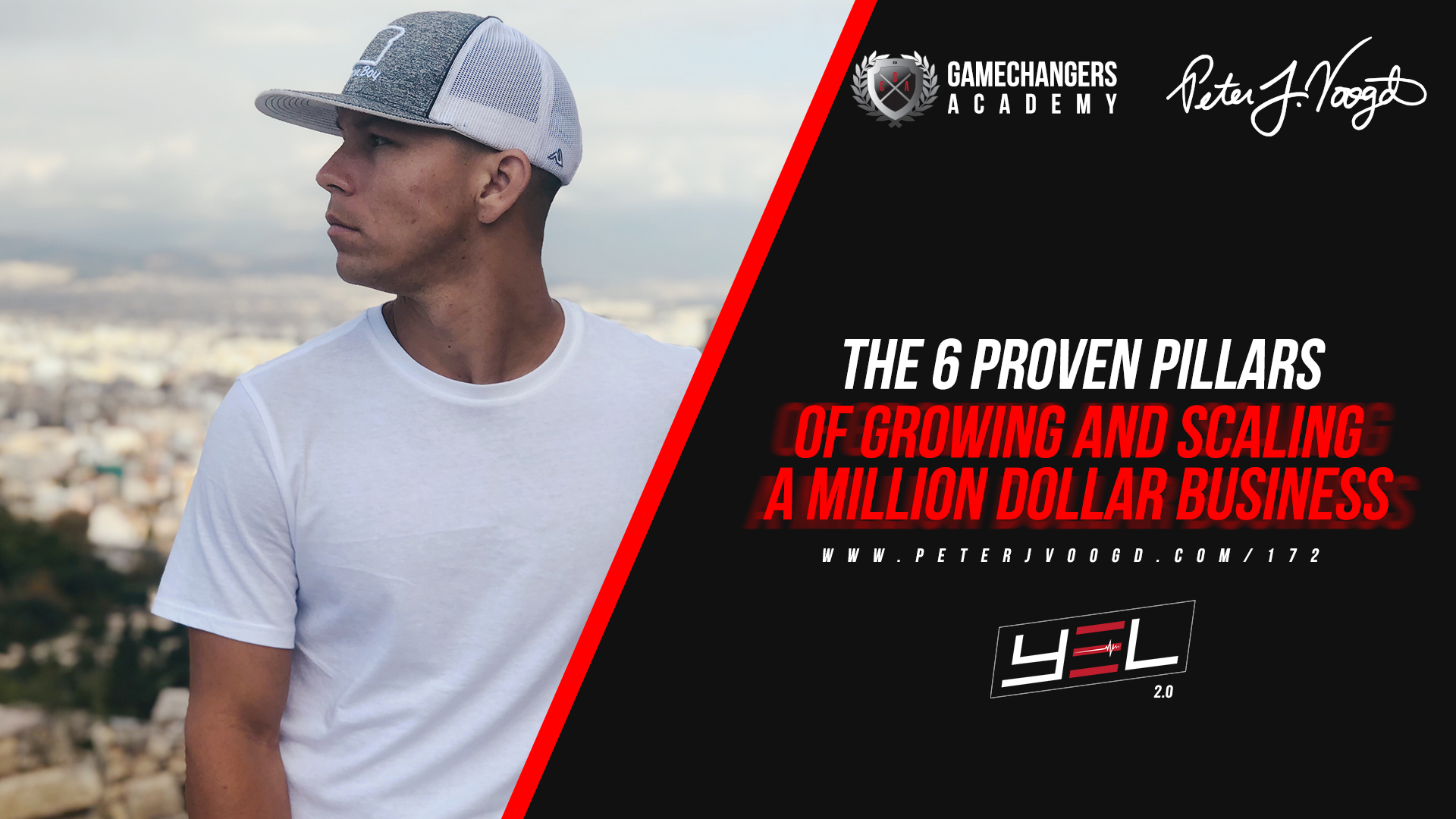 20 Nov

The 6 Proven Pillars of Growing and Scaling a Million Dollar Business
EPISODE SHOW NOTES
Are you burning the candle at both ends and still not seeing results?
Not enough people are experiencing freedom. No matter the hustle, the grind, the immense amount of work they put in, it just doesn't cut it – the results they want simply aren't there.
Remember the college dropout who was dead broke and blindly jumped into business? He worked way too hard he realized the business he owns ended up owning him. That was me. When it became clear that complete freedom was what I wanted so I can be with my family and live the lifestyle I want, that's when the game changed.
I created a roadmap anchored by my new mentality and my clearer focus and unwavering determination: a 6-step formula I used for years that helped me BRAND and SCALE my business.
How much longer will you let your body work 50 to 60 hours per week until it tells you it has reached its maximum capacity?
When you realize freedom and your well-being are so much more important than money, that's when you develop a mindset and a strategy like mine that'll guide you on your journey to a million dollar business.
Find out how you can scale up and become a world-class entrepreneur ready to build a million-dollar legacy for your family in today's prized podcast!
In this episode, you will learn…
Why freedom is more important than money
The importance of BRANDING and SCALING
How to have a bulletproof confidence
The 6 PROVEN PILLARS of growing and scaling a business
QUESTIONS:
ARE YOU DOING SOMETHING WITH THAT NAGGING PULL TO CREATE A BIGGER AND MORE CONSISTENT INCOME?
Serious Entrepreneurs & Sales Professionals ONLY! 
For the past 6 months, I have been working on a deep dive training based on the #1 question I get almost daily!!
"How do I grow and scale my business, while creating freedom and autonomy?" 🤔
After a lot of trial and error, I realized there was a 6 step proven formula and I'm going to share this with you this Thursday at 5 pm PST!
The training will be called "The 6 Step Proven Formula to Growing & Scaling Your Business While Creating Real Freedom For The Things You Care About" 🙏🏽 and I will reveal…..
✅How to Gain Absolute Clarity
✅Top Ways to Multiply your Profits
✅7 Figure Mindset Hacks and Habits
✅How to Have High Paying Clients Chase You
✅Tactics to Tear Down Barriers and Limitations
I believe this to be the best way to profit and take advantage of today's changing economy, and I want you to be able to thrive when the economy shifts and not live in fear like most people 😕
Look if you've built a 100 million dollar business but you don't have freedom and autonomy, or you don't get to see your family whenever you want you did it ALL WRONG 🚫🚫
GAMECHANGERS ACADEMY
#1 Academy for Gen-Y/Millennial Entrepreneurs
One of the Premier Networking Communities
Millionaire Guest Speakers/Exclusive Mastermind Calls
Over 200 Testimonials
APPLY FOR THE GAME CHANGERS ACADEMY NOW!