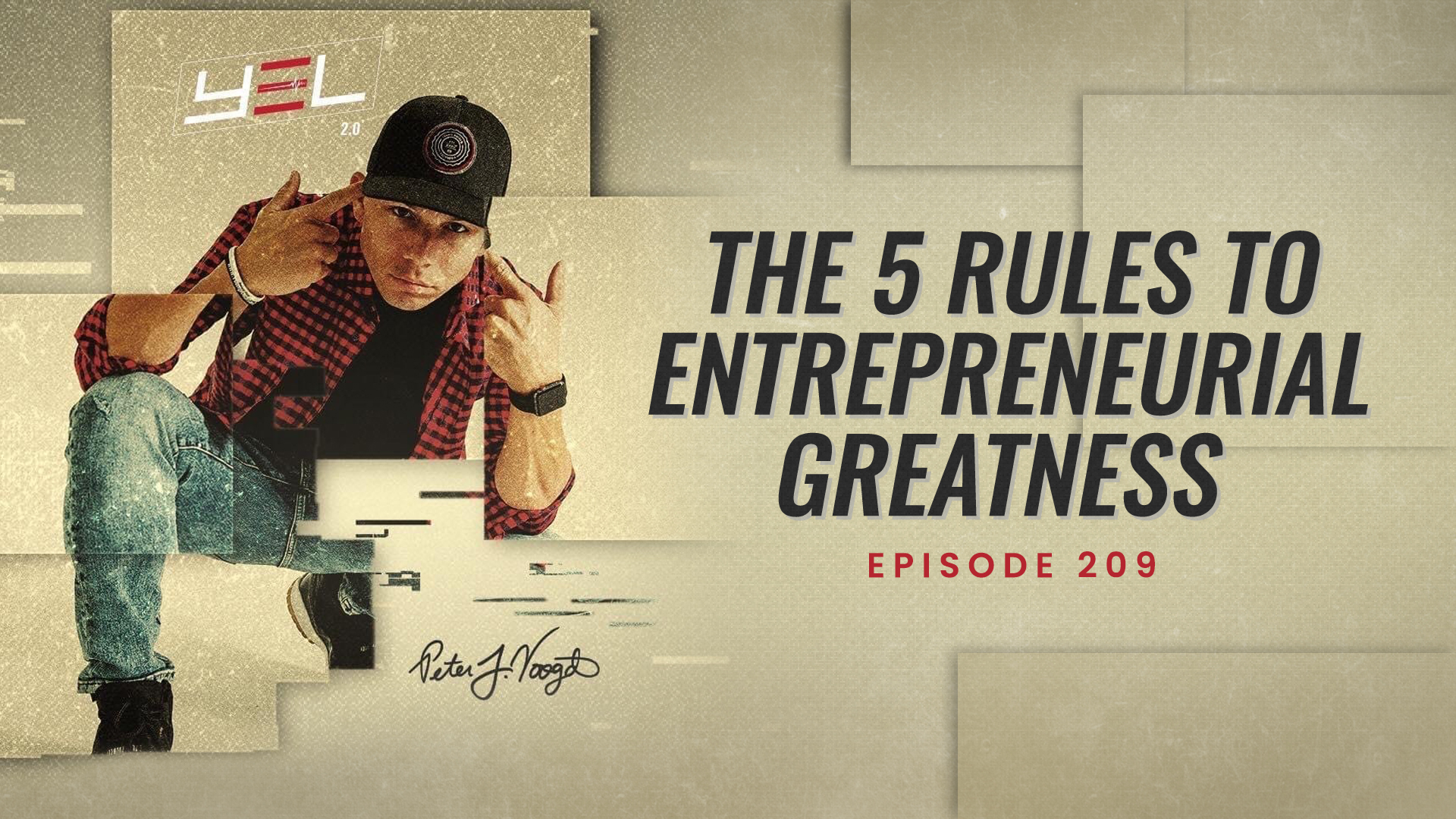 12 Nov

The 5 Rules to Entrepreneurial Greatness
EPISODE SHOW NOTES
In this episode of Y.E.L 2.0, your host Peter Voogd talks about the 5 rules to entrepreneurial greatness that he has gathered from his multi-millionaire guests. They all adhere to these rules!
Episode Highlights:
In the past few months, Peter has been lucky enough to interview plenty of incredible multi-millionaires

There is one thing that all of Peter's incredibly successful guests have in common

Each guest has some kind of pain from their past that they use as motivation to turn adversity into an advantage

People who grow up that had everything given to them usually don't have the hunger to achieve greatness

Peter's guests have much higher standards that they set for themselves that are shaped by what they want and where they want to go

You'll get what you tolerate, so don't tolerate being disrespected, being broke, or having bad energy around you

Everyone has a thermometer, whether it's with their health or income, that is set by their self-expectations

Make a list of the things that you shouldn't be doing, your weaknesses, and delegate those out to avoid wasting your time

Focus on your area of genius, your strengths, and delegate everything else to your team

You need to delegate any task that someone on your team can do 80% as good as you

Truly successful people have a deep desire to give value to their audience

Peter doesn't interview all multi-millionaires, only the ones that he respects because of their ability to add value

Pressure and bounceback, the ability to fail and try again, are essential to achieving your goals

Greatness itself can only be achieved by those who are willing to fail more times than their competition

An obsession with problem-solving within their field has fueled the GOATs in every industry
Three Key Points
If you ever feel complacent, you haven't experienced enough of the type of pain that alters you as a human.

Lower standards and a fear of risk stop those in the 6-figure range from crossing that threshold into the 7-figure range.

Successful people focus on their strengths, things that keep them engaged, and things that produce growth in their business.
RESOURCES
You can download Peter's exclusive networking blueprint at
https://gamechangersmovement.com/networking
– This blueprint will give you the exact scripts Peter uses to get ahold of anybody. 
SOCIAL MEDIA
Let's Connect on Social Media:
Follow Peter Voogd
GAMECHANGERS ACADEMY
#1 Academy for Serious Entrepreneurs
One of the Premier Networking Communities
Millionaire Guest Speakers/Exclusive Mastermind Calls
Over 500 Testimonials
Featured in Entrepreneur and Forbes Magazine
APPLY FOR THE GAME CHANGERS ACADEMY NOW!