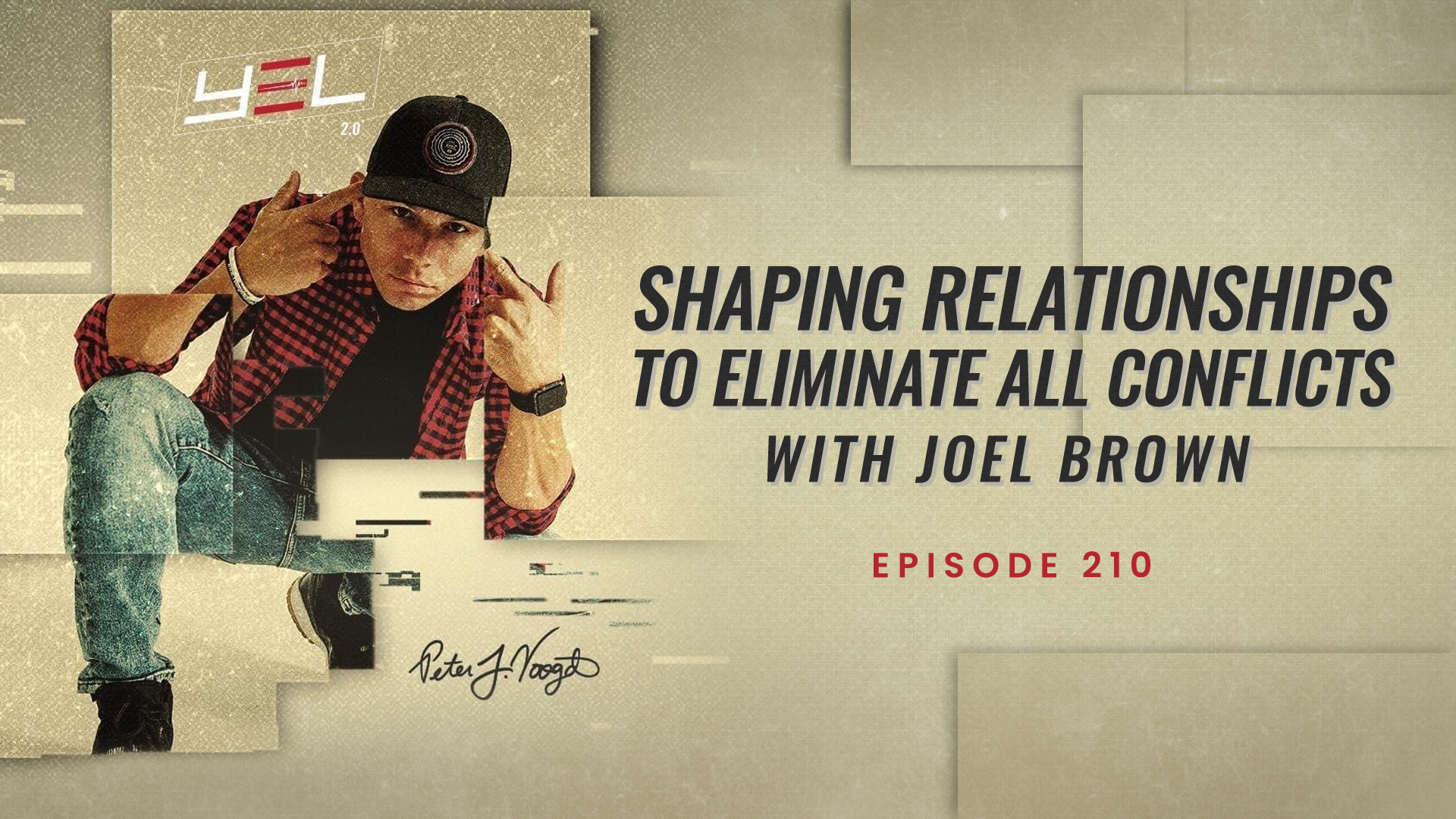 19 Nov

Shaping Relationships to Eliminate All Conflicts w/ Joel Brown

Joel Brown Website

Let's Connect on Social Media:

Follow Peter Voogd

[/vc_column_text][/vc_column][/vc_row]
GAMECHANGERS ACADEMY
#1 Academy for Serious Entrepreneurs
One of the Premier Networking Communities
Millionaire Guest Speakers/Exclusive Mastermind Calls
Over 500 Testimonials
Featured in Entrepreneur and Forbes Magazine
APPLY FOR THE GAME CHANGERS ACADEMY NOW!
EPISODE SHOW NOTES
In this episode of Y.E.L 2.0, your host Peter Voogd speaks with Joel Brown about how to shape relationships in a way that eliminates all conflicts!
Episode Highlights:
Many motivational people want to build businesses that attract people to them instead of chasing people
The goal should be making people want to share your content by doing great work
Use surveys and social media engagement to get to know your audience and what they resonate with
As a visionary and creator, Joel is able to show people that he is speaking from his personal wisdom
Joel encourages his writers at Addicted to Success to come from a different angle that portrays their authenticity
Addicted to Success runs itself independently because of Joel's ability to attract great writers
Content creation acted as a training ground for Joel to overcome any self-limiting beliefs that he had
Dropping out of high school didn't stop Joel from making millions of dollars and achieving true success
Achieving the first few things of his vision gave Joel the confidence to skyrocket his success
The ability to focus on one main business, rather than separating your focus, will allow you to move to the next level
Living life on your own terms allows your audience to embody what it feels like to attain real freedom
Right now, businesses have the choice to move online and create content or watch their business die
Money can give a false impression of being big and successful
Being great means to achieve great results, not appearing big to the rest of the world
Status should not be about what other people think of you but of what you think of yourself
Once you can move past feeding on the money and cars, you can truly enjoy the process of creation
A journey of self-discovery will make the content reveal itself and you will know what to share
Joel was able to create more harmony in his life by entering the acceptance energy frequency
Three Key Points
The fear of rejection and being judged stops people from creating great things.
Surrounding yourself with people that both encourage you and keep you grounded is incredibly important to success.
Too many people are focused on being big when they should be focused on being great.
RESOURCES
You can download Peter's exclusive networking blueprint at https://gamechangersmovement.com/networking – This blueprint will give you the exact scripts Peter uses to get ahold of anybody. 
SOCIAL MEDIA
Joel Brown Website
Let's Connect on Social Media:
Follow Peter Voogd
GAMECHANGERS ACADEMY
#1 Academy for Serious Entrepreneurs
One of the Premier Networking Communities
Millionaire Guest Speakers/Exclusive Mastermind Calls
Over 500 Testimonials
Featured in Entrepreneur and Forbes Magazine
APPLY FOR THE GAME CHANGERS ACADEMY NOW!