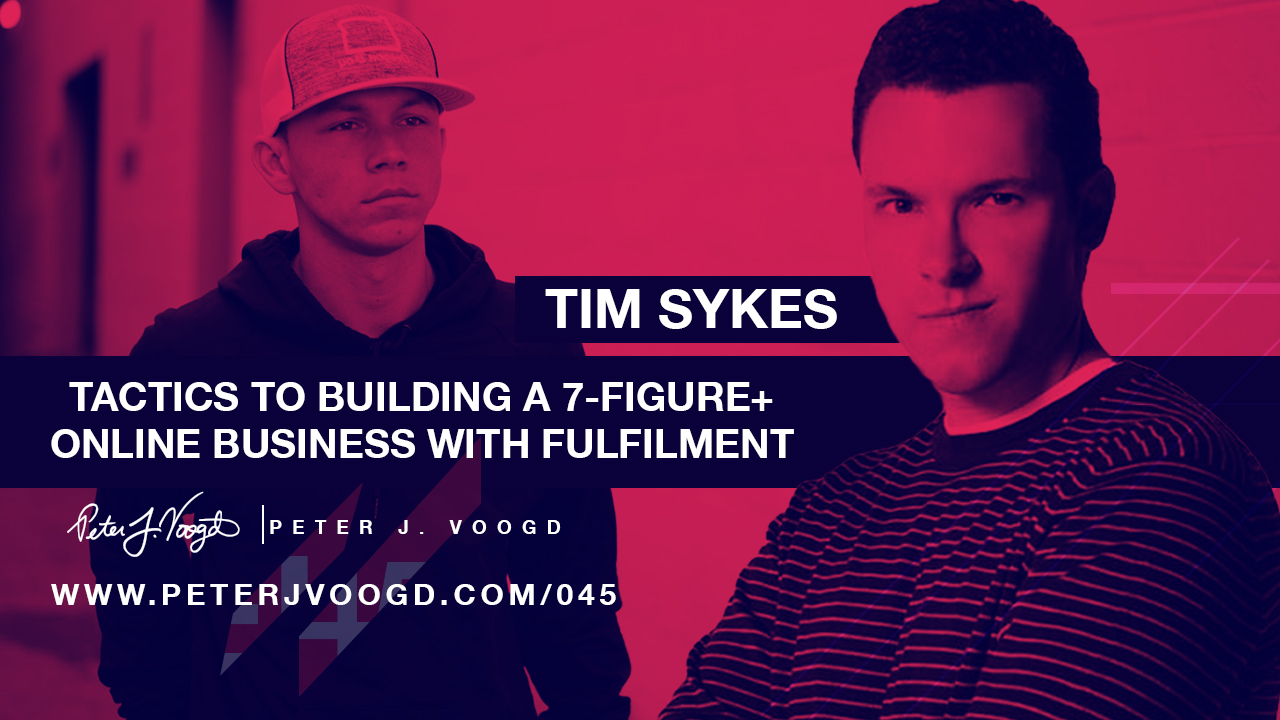 20 Apr

Tim Sykes – Tactics to Building a 7-Figure+ Online Business with Fulfilment

SUBSCRIBE ON ITUNES LEAVE A REVIEW

EPISODE SHOW NOTES

I had the honor to sit down and interview penny stock trader, entrepreneur, now a full-time teacher & best known for earning about $4 million by day trading items like Square shares and others, Timothy Sykes! It was a refreshing interview with a lot of nuggets that could help your business exponentially grow.

Tim is somebody who clears over 30 million a year while traveling the word. He has too many customers, media, and requests coming at him because of his brilliant approach to online marketing. He helps businesses with their customers, allowing them to form better relationships with them. This, in turn, helps the business with its marketing efforts. If the business understands more about the customers, they can start to market relevant things towards them and they would be able to group their audiences by behavior. This is called behavior segmentation (read additional info here). That could be extremely beneficial for businesses.

In this interview, you'll discover how much of a badass Tim is online. He is extremely authentic and goes above and beyond for YOU but also to the thousands he interacts with online, daily! Tim shares with us his tactics to explode your business and go from 6 to 7 figures. Regardless of whether you are selling products or selling software, with the additional help of places like FastSpring (https://fastspring.com/solutions/selling-software-online/), this type of business advice and support can be available for anybody who needs it. So with that being said, I'm excited to share with you Tim's thoughts and experiences in business as he delivered value way beyond my expectations – extremely genuine and has a huge heart.

In this episode, you will learn . . .
How to maximize social media

How to create multiple streams of income

Why making millions isn't fulfilling & what his new purpose is

What you MUST outsource if you want a great lifestyle

The top 2-3 NON NEGOTIABLE Habits of 7 figure earners
Do not put all your eggs in one basket
Click To Tweet
There's no reward without hard work
Click To Tweet
The world is your competition with social media
Click To Tweet
What our Game Changers Academy Members are saying…
"I have two takeaways: It was nice to hear him say that a non-negotiable habit was developing patience and perseverance. And that you NEED great testimonials. I have completely slacked in that area and I just started gathering those this week! Great call!
" – Elizabeth Kurz
"First, I had a TON of fun listening into the call. I definitely learned a lot and have taken a lot of it into consideration. One of the things I've already started noticing a trend in is taking the emotions out of things. Do what you do, do it best, and make it MASTERFUL. My two takeaways would be to have patience and keep on persisting. Making sure to never forget your roots. Keeping up with current and previous customers is incredibly important. Tim was incredibly pumped, even after 10 years of doing what he has, he looked and sounded like he had even MORE drive than ever. It's important to keep in mind that you gotta do what you LOVE and it's ALL or NOTHING. These are my takeaways from this. I'm going to listen to the call a few times to really take some more detailed notes. Thanks for an awesome call Peter. My first one. I'm very much looking forward to the future ones." Hamza Khalid
"I have to say that since I've been following Tim Sykes via social media for the past 5 years it was Amazing to actually put a success story to the face.I'll be honest I stopped following him because all I was seeing on his posts was the glitz and glamour of his success which to be honest didn't inspire me as much as internal success.Listening to the live call really made me shift my perspective.It was impressive to know that he also agrees Money comes and goes and even though it can give you instant gratification it will never compare to your everlasting Legacy.Money should never be the motive but helping and inspiring others is what it's all about.As per my business, my focus needs to remain on my customers and communicating on a more personal level with them.The biggest takeaway I'd have to stay was on how you have to remain Authentic throughout your journey.Thanks again Peter Voogd for always providing the best speakers and calls in the industry.Wish you all continued success and growth." – Jennifer Polo


What tactics will you implement RIGHT NOW to really make your business explode 5 years from now?