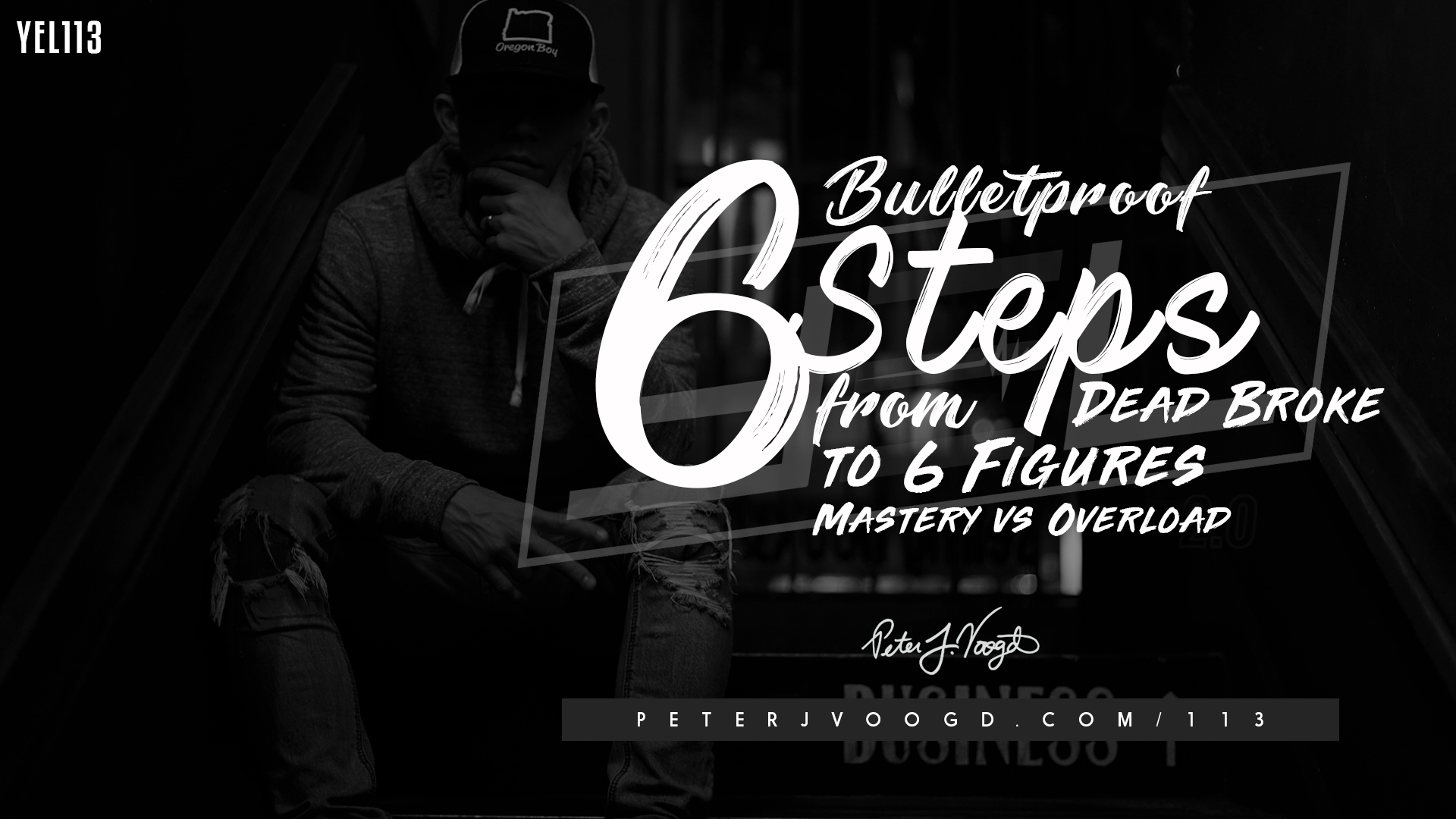 04 Oct

6 Bulletproof Steps from Dead Broke to 6 Figures – Mastery vs. Overload

SUBSCRIBE ON ITUNES LEAVE A REVIEW

EPISODE SHOW NOTES
Do you know the biggest reason why most people fail to execute?
They bombard themselves with too much information and lack intention with the content they're consuming. They continue the information overload spiral without actually mastering any part of what they are consuming. The reason for this? It is easy to sit back and read articles from your desk while it is difficult to go out and execute on what you have learned. It's a combination of laziness and procrastination.
In this week's podcast, I teach you exactly how to stop this downward and counterproductive information overload spiral by continuing to the break down my Best Seller book "6 Months to 6 Figures".
Being able to combat and effectively balance this mastery v. overload problem will be the single greatest reason you will be able to bring your business to a whole new level.  
If you want to succeed, you need to understand the importance of mastery. Only master what is most congruent with your end results. Mastery is the highest form of accomplishment, performance, and success. Mastery is what sells.
Are you prepared to focus on mastery and achieve the highest level of results for your business? Let's get into this week's podcast!
In this episode, you will learn . . .
Why mastery vs overload is the key to success

The biggest hacks in taking your business to a whole new level

The break down of "6 months to 6 figures" and helping someone go from broke to earning high level income
Watch the full youtube video below:
PROGRAMS
Learn More About 'Game Changers Academy'
BOOKS
6 Months to 6 Figures Action Plan (FREE)
SOCIAL MEDIA
Let's Connect on Social Media:
Follow Peter Voogd
Mastery is the highest form of accomplishment - performance and success Click To Tweet
Only master what is most relevant and congruent to your end results Click To Tweet
Network and build relationships genuinely and give value without expecting Click To Tweet


WHAT ARE YOU GOING TO MASTER TO TAKE YOUR BUSINESS TO ANOTHER LEVEL?