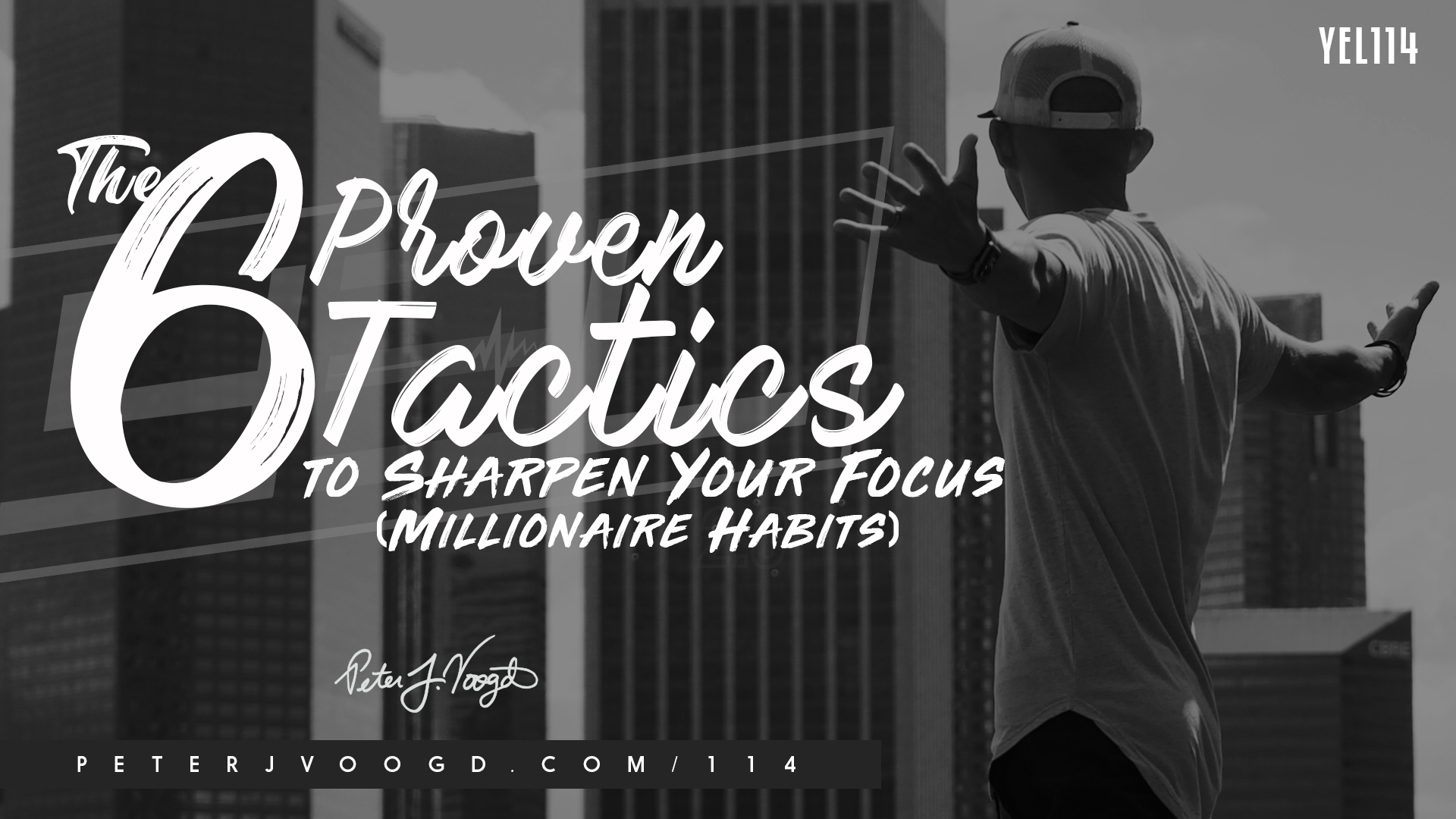 11 Oct

The 6 Proven Tactics to Sharpen Your Focus (Millionaire Habits)

SUBSCRIBE ON ITUNES LEAVE A REVIEW

EPISODE SHOW NOTES
Many entrepreneurs fail because they don't understand the importance of the power of pure laser focus. People are too obsessed with learning and growing, and getting their hands on too many resources. This leads to information overload.
The majority are still stuck in the mindset of "working harder not smarter". How will you find time on doing things that give you the most fulfilment when your stuck on the mindset of hustling all day? The one thing you must do in order to survive in this era is to focus on working right.
Billionaire entrepreneurs, Warren Buffett and Bill Gates believe that the main key to success is the power of focus. In this new economy, there is overwhelming complexity, insurmountable change and incredible competition. This is the time where it has become more significant than ever before, to focus on what's most important.
Do you truly understand the importance of maximising your time? Perspective of your 24 hours is the biggest game changer. How you spend your 24 hours determines your productivity. Focus on changing your perspective with your time. The more you are disciplined with your time, the more you will find yourself working less, and getting better results.
In this week's episode I will share with you how you can create a legacy and a lifestyle that you desire, through the power of focus.
Let's dive in!
In this episode, you will learn . . .
Understanding the importance of maximising your time

Why focus is important, and the 6 key strategies to staying focused

How you can stay focused and start creating a legacy and a lifestyle that you desire

How to be much more productive with your time
Watch the full Youtube Video Below:
PROGRAMS
Learn More About 'Game Changers Academy'
BOOKS
6 Months to 6 Figures Action Plan (FREE)
SOCIAL MEDIA
Let's Connect on Social Media:
Follow Peter Voogd
Focus is ultimately a matter of simplicity and decision Click To Tweet
Whatever you focus on, multiplies. If you focus on your problems they get bigger. If you focus on solutions, you will develop more of them Click To Tweet
Your focus can single handedly determine whether your life is world class, and your business is world class, or your life and business is simply mediocre Click To Tweet


WHAT WILL YOU DO TO BE MORE PRODUCTIVE WITH YOUR TIME?