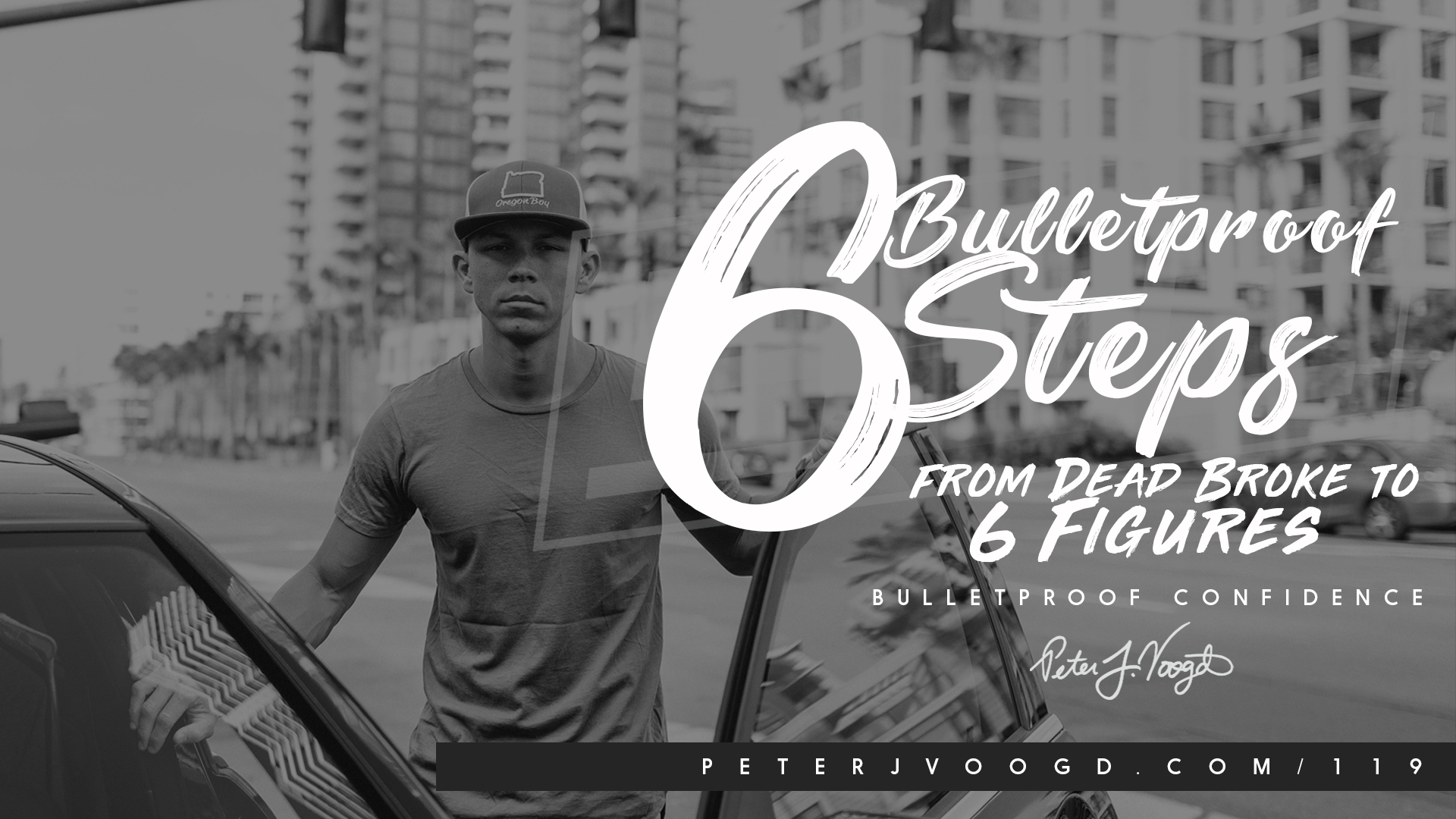 15 Nov

6 Bulletproof Steps from Dead Broke to 6 Figures – Bulletproof Confidence

SUBSCRIBE ON ITUNES LEAVE A REVIEW

EPISODE SHOW NOTES
Why is having confidence and mental toughness the biggest key in succeeding? Because insecurities will destroy you while confidence will take you to a level that very few obtain.
In this week's podcast I dive in the steps from "6 Months to 6 Figures" and the importance of confidence being congruent to your level of success.
Your most important account is not your bank account but your confidence account. Those making the most impact and influence in this new economy have certainty and confidence.
Are you executing on your vision? If you have level 10 goals and want high level income however your confidence level is 4, you're going to live incongruently and be stressed out. When you're stressed out, you're not as resourceful.
If you want to build a world class life, you need to find a way to maximize your resources. Remember, being resourceful is the biggest resource.
Your biggest resource is your internal emotion – getting addicted to the feeling finishing something you needed to do, whether you feel like it or not. Start doings things based off intelligence rather than mood. I can guarantee that you will start getting the results that you want.
Make sure you tune in this week's episode, for an in-depth perspective shift in building mental toughness and creating a world class life!
In this episode, you will learn . . .
How to breakthrough mental toughness and gain confidence to create a world class life

Why having a high level of confidence can make you more resourceful

How to build confidence to start reaching your goals and vision in life

6 key steps to bulletproof confidence
Watch the full youtube video below:
PROGRAMS
Learn More About 'Game Changers Academy'
BOOKS
6 Months to 6 Figures Action Plan (FREE)
SOCIAL MEDIA
Let's Connect on Social Media:
Follow Peter Voogd
It's not about the hours you work, it's what you put in the hours and the mindset you have while you're working Click To Tweet
If you want level 10 goals and you want level 10 income but your confidence is level 4, you're gonna live incongruently and be stressed out Click To Tweet
The key to confidence - get addicted to the feeling finishing something you didn't feel like doing to being with Click To Tweet


WHAT STEPS WILL YOU TAKE TO BE MORE CONFIDENT AND START CREATING A WORLD CLASS LIFE?