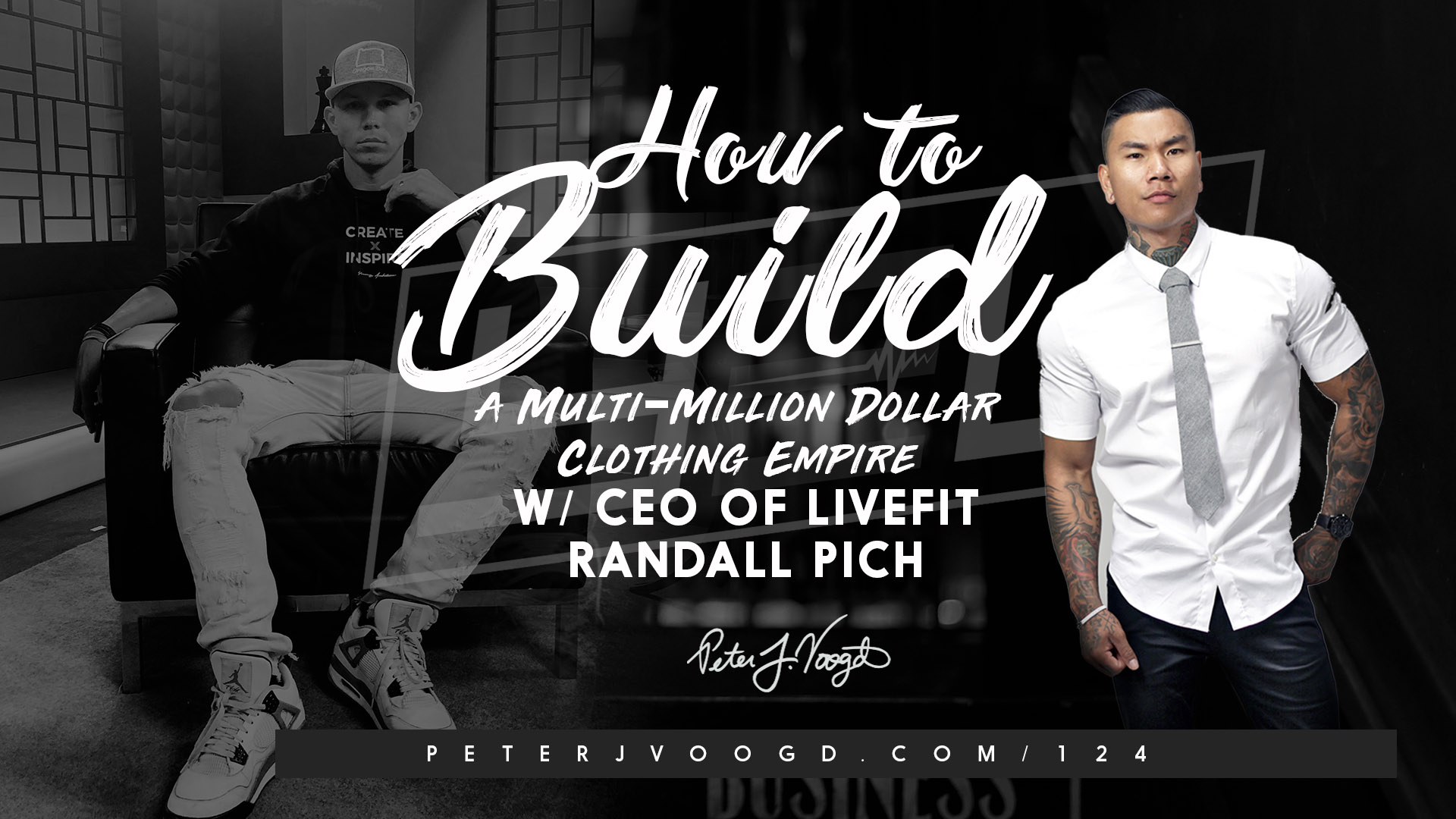 20 Dec

How to Build a Multi-Million Dollar Clothing Empire w/ CEO of Livefit Randall Pich

SUBSCRIBE ON ITUNES LEAVE A REVIEW

EPISODE SHOW NOTES
In this new economy, starting a business is very easy and accessible. However being able to rise above the noise is the biggest difference between a successful company and one that will fail.
In this week's podcast episode I interview the one and only Randall Pich, CEO of Livefit, a multi-million dollar clothing empire. Live Fit is one of the most successful clothing lines that have been created from the ground up before Randall hit the age of 25.
Starting a clothing line is arguably one of the hardest industries to succeed in as in most cases you are not solving a problem, but rather trying to start a movement or brand.
For Randall, success did not come easy for his Live Fit line of apparel, and it was even more difficult considering the fact that Randall had dropped out of college just 6 credits shy of graduating to focus on his business. The difference was that Randall had a plan and a sense of urgency to make Live Fit work. Needless to say, he succeeded in achieving that by making Live Fit apparel a recognized brand that is slated to do 8 figures in sales.
One of the biggest lessons that Randall shares with us is in order to succeed in building an empire and captivating brand is to hire the right people. Hire people who can represent the brand's vision and values. Randall emphasises the importance of building the right team and hiring those who treat your business like it's their business. Not having the right people to help run your business is one of the many reasons why business fail.
Success is not created overnight. Randall preached the hardships of creating the success in the brand that he has created. It is 5 – 10 years of constant hustle, from marketing, networking and thorough research. Beyond the hustle, Randall is able to captivate people with his brand by being genuine and truly living what his brand is about – It is all about being authentic and living your brand.
If you are struggling in taking your business to the next level and creating a captivating brand, make sure you tune into this week's podcast. You don't want to miss it!
Let's dive in!
In this episode, you will learn . . .
How to create a captivating brand
The importance of hiring the right people to succeed
How to rise above the noise and create a successful company

How to use social media to your advantage in order to grow your business
.    
PROGRAMS
Learn More About 'Game Changers Academy'
BOOKS
6 Months to 6 Figures Action Plan (FREE)
SOCIAL MEDIA
Let's Connect on Social Media:
Follow Peter Voogd
You have to adapt to the times and live what your brand is about Click To Tweet
Constructive criticism - take it well Click To Tweet
When you want to get to the next level - I look for people who treat my business like their business Click To Tweet


WHAT IS YOUR VISION FOR YOUR BUSINESS?